You need to get in and out of the shower in record time in the morning - and you also need to moisturize.
How can you make it any faster?
By using Jergens Wet Skin Moisturizer, that's how.
Jergens Wet Skin Moisturizer
is the first ever oil-infused moisturizer designed to work while skin is wet, and most receptive to moisture. It's a creamy, silky formula with just the right amount of fragrance. I simply applied once I stepped out of the shower, directly on my wet skin, and then toweled it off.
The
Monoi Oil
fragrance was my favorite and it lingered just long enough. It reminded me of one of my favorite beauty products,
NARS Body Glow,
but was never overpowering. I would get a light whiff every now and again, which was very pleasant.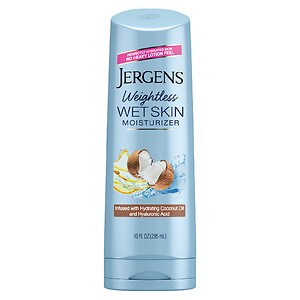 Jergens Wet Skin Moisturizer, Monoi Oil
was so easy to use, and my skin was soft, hydrated and glowing with a beautiful sheen - but didn't feel greasy or oily. The cream mixed with the water on my skin and I was able to apply it evenly, with no residue or lotion patches.
If you love a coconut scent with a tropical twist, try my other favorite, the
Jergens Wet Skin Moisturizer, Coconut Oil
version.
Jergens Wet Skin Moisturizer
is perfect for those of you who are showering after daily work outs, the "lazy" girls, busy moms and dads and anyone who just wants to get ready faster in the morning! - RLB
Purchase Here:
Jergens Wet Skin Moisturizer, Monoi Oil